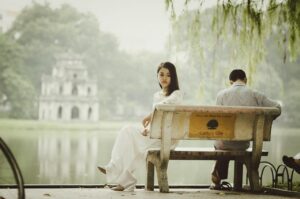 I've been enjoying and relating to the book, If I'm So Wonderful, Why Am I Still Single? by Susan Page. She talks about the things that we do to sabotage our potential for creating real lasting intimate love.
(I have an opportunity for you at the end of this letter, so read on!)
For some – for various reasons – relationships of any kind are elusive. We'll cover that in another letter, but today I want to talk about BTN relationships.
BTN stands for Better Than Nothing.
Boy, can I relate to this one! Can you? It was like, wow, I did not like not being in a relationship. I was waiting for God to bring the right guy, and God was taking his own sweet time. So, while I was waiting, I passed the time by getting involved with guys who were not right for me. They were kind, or they made me laugh, or they were great friend material, but they were not the One, and I knew it.
It would feel good for a while. It would fill the days, and evenings, give me someone to be with, and make me feel not so alone. But I was always stuffing this nagging and growing dread that this would have to end.
Ultimately, when the person started getting more serious, I would break it off. Oh how devastatingly painful for me and for him. And then, after a short while, when I got tired of being alone,
I. would. do. it. again.
Oh my, the agony of all those painful breakups on my way to true love.
Sometimes it's the other way around and you are his BTN. Ouch. In my on-line workshop next Tuesday, February 2, I'll be sharing more about this one.
The problem with BTN relationships is that
A. They are painful. They not only hurt you, but they also hurt the other person.
Face it, Girlfriend. If you're in a BTN relationship you are using another human being to fill your own needs at their expense, and/or they are using you. And
B. They suck up your time and energy. While you're in the BTN relationship you are unavailable for The One who may be right next to you but you're not available.
So, how do you get out of this rut?
Help is on the way!! This Tuesday evening, February 2, I'm going to take you through the workshop that I usually only share with the women in my live, local events. It's called Cracking the Code on Attracting Your One True Love.
Date: Tuesday evening, February 2, 2016
Time: 5:00 PM Pacific / 8:00 PM Eastern
This is a highly interactive workshop designed for those women who are serious about finding their ultimate life partner, that soul-mate, and one-true-love, who inspires you to throw away your single's card forever.
Mother Teresa, of all people, said simply "We have been created in order to love and to be loved."
So, why does it seem so easy for some and challenging for others?
What does it take to attract AND KEEP that one special person?
In this magical evening, you will experience deep insights into what's holding you back, and WHAT you can do about it NOW!
Identify what's blocking YOUR man from showing up.
Discover my #1 secret to attracting that one person who will be your ideal passionate devoted lover.
Find out how to break free from self-defeating relationship patterns, some you may not even be aware of.
You will learn how to radiate your unique beauty so brightly into the world that amazing men will move mountains to be at your side.
Ready to join us?  Register here NOW and reserve your spot for this eye-opening on-line event.
Is this for you?
Yes, if you are a single professional woman who longs to meet your ultimate life partner and are fed up with being invisible to the man who will love, respect and cherish you.
What people are saying about this workshop:
"I so very much enjoyed your workshop this past Saturday—it was so rich with information and in opportunities for insight. I came away inspired and feeling like you threw me a lifeline, which I can grab and pull myself out of rut and head in a new direction. And….maybe there really is that great man out there!!!" – Toni, 40
"My favorite part of the evening was when I realized this was not fluff!! … It confirmed for me WHY I attract the same scenario over and over again."
– Kristen, 44
"The most valuable discovery I came away with was that "it's possible that I attract men based on what I project. That when feeling emotionally paralyzed – one must get their life going in order for a relationship to form/develop – not the other way around."
– Kelley, 52
"Now I will "look for what I want, not for what I have been settling for!"
– Sherry, 55
"I discovered that "other women have similar past experiences with relationships. I have a fresh perspective on approaching life – I am not alone."
– Jenny, 22
"The most valuable part of the evening was "listening to Fawn provide 'new' ideas about finding love. I discovered there might be hope to find a new soul mate."
– Monica, 50
In the meantime, be strong Girlfriend! Here's a little inspiration from Nat King Cole and Natalie Cole to keep you going… When I Fall In Love
Sending you giant hugs,
Fawn
P.S. This event is happening in less than 5 days, so register HERE NOW and put it on your calendar. Then get ready to dive in and discover YOUR code to attracting your one true love. No more BTNs!
P.P.S. Have you already attended the in-person version of this workshop? Feel free to forward this to your girlfriends (anywhere in the world) who couldn't make it to our live workshop.